Mr Johnson visited McParland Pharmacy in Uxbridge in west London for over half an hour last Friday (January 17), the Association of Independent Multiple Pharmacies (AIMp) CEO Leyla Hannbeck told C+D.
"It was a fantastic opportunity for community pharmacy to show the Prime Minister what [the sector's] provision is all about. It was very generous of him to give up his busy time to come and listen to what we do in community pharmacy," she told C+D yesterday (January 20).
Supporting the NHS
Ms Hannbeck, who invited the Prime Minister "to show him what value pharmacy can add", said Mr Johnson was particularly interested in understanding how the sector can alleviate pressure on other NHS services.
"We highlighted how, when recognised and valued, we can as a sector help lift the burden on A&Es and GPs who are under pressure, supporting the government's agenda."
Ms Hannbeck said she also made the Prime Minister aware of the value community pharmacy can add to the government's prevention agenda.
"With the right support and funding, we can do hypertension and atrial fibrillation, diabetes monitoring, we can [keep] people from misusing opioids… all of these things are a hot topic for the government, [and pharmacy] can be a solution," she said.
Mr Johnson asked Ms Hannbeck why people "end up rushing to A&E" instead of choosing to visit their local pharmacy first, she said.
The Prime Minister agreed to take this conversation forward, in a bid to "inform people on what pharmacy can do", Ms Hannbeck said. "With the right support and means, we will be able to help, so people don't end up going to A&E unnecessarily.
"He later retweeted my tweet about his visit, which I thought was a very nice gesture," she added.
"There needs to be movement, which needs to start by getting politicians behind us so that they can see what we do. [It will then become] much easier to start changing the public perception," Ms Hannbeck told C+D.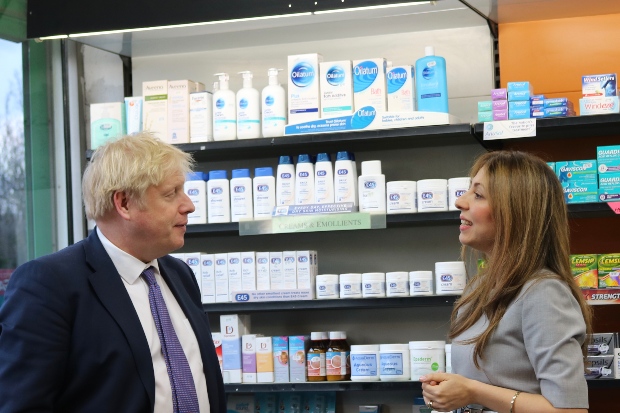 CPCS and flu jabs
During his visit, Mr Johnson took interest in the services offered by the McParland Pharmacy branch, said Ms Hannbeck. She highlighted how many Community Pharmacist Consultation Service (CPCS) referrals the pharmacy had completed and gave him an update on the number of flu vaccinations it had administered.
"He was very impressed, and said: 'Wow, you're doing all of these things'," she told C+D.
Corrin McParland, owner of the McParland Pharmacy chain, said: "It was a pleasure for our pharmacy to have the visit by the PM. 
"By visiting our pharmacy, he saw the pharmacy teams' good work in action and heard from our patients how valuable pharmacy services are to them".
In a statement after the visit, Mr Johnson said it was "a real pleasure" to meet Ms Hannbeck and Mr McParland "to learn more about the important work of community pharmacies in helping to keep local people fit and healthy".
"We discussed how the pharmacy's involvement in the consultation service has already benefitted a number of my constituents. This has helped relieve pressure on GPs and A&E departments, as well as giving people the treatment they need as quickly and as close to home as possible," he added.